Best running gadgets 2017: the top fitness tech to help you run better
Running's seems pretty straightforward, right? It's just going outside and putting one foot in front of the other, rinse and repeat.
Though, while it may seem like the most instinctual exercise known to mankind, there's nothing a bit of revolutionary technology can't improve on.
And, as any runner will surely explain (along with an extensive knowledge of public toilets and local water fountains) one thing all marathon addicts gain over time is a thirst for data.
Watching your form and knowing how fast, how far and when you are within reaching distance to a new personal best (PB) while you're running is an amazing way to help you comprehend your training, spot areas to work on and inch you closer to reaching your goals.
While one of the best running watches, trainers and some sweat-wicking gear is likely at the top of your list, we ran the extra mile to bring you a list of the best running gadgets that could take you just that much closer to that PB, one step further from injury and generally make running a gentler, more enjoyable time.
Note: we've ranked these from cheapest to most expensive according to prices at time of writing.
The market is absolutely saturated with devices that feature data tracking, stats and apps, but FlipBelt is one of the most uncomplicated pieces of gear around. It's also one of the most indispensable.
Pull the flexible fabric tube up around your waist, fill it with all your running essentials – phone, credit card, energy gels, emergency change for the public bathroom – and flip over. And, just like that, everything sits firmly around your waist.
Unlike a fanny pack with its adjustable straps and buckles, the belt sits flush against the skin so there's essentially no bounce. No zips on the openings means no chafing and, assuming you get the correct size – there are five to choose from ranging from a 23- to 41-inch waist – there's no riding up either.
You can even get water bottles designed to fit inside the belt, so it's 'goodbye' to that sloshing lopsided gait.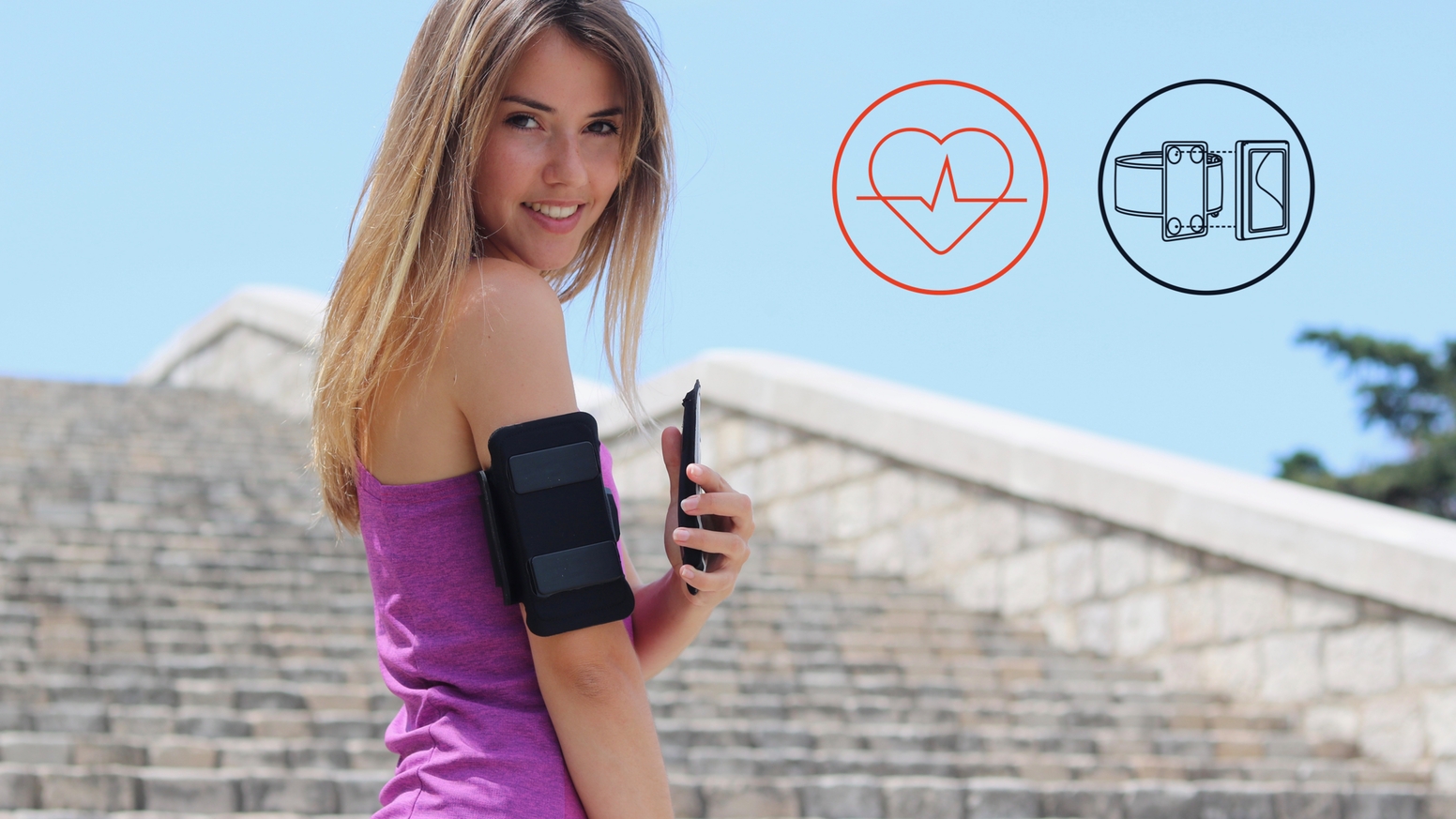 Any runner that is striving to be more efficient in their exercise needs one thing above any other, and it's a space-saving two-in-one gadget like the Shapeheart Armband.
Unless you're planning to purchase the Apple Watch 3, carrying your phone on runs is often an unavoidable hassle and, while armbands aren't everyone's favorite, they're regrettably necessary for most runners. And if that's something you need, you may as well make it twice as useful.
Not only does the Shapeheart provide a convenient way to carry your phone, with a magnetic case that allows you to easily detach your phone from the strap to take calls, capture those necessary running selfies (or check Google Maps), it also monitors your heart rate.
A detachable optical heart rate (HR) sensor located in the neoprene armband sends your heart rate data to basically any running app you choose – Nike+, Strava and Runkeeper – so you can ensure you're training in the right zone for your goals.
While it obviously won't be as accurate as a HR chest strap, the armband should be more trustworthy than the data from a watch as you're less likely to get that gap between sensor and wrist that can cause irregular HR stats.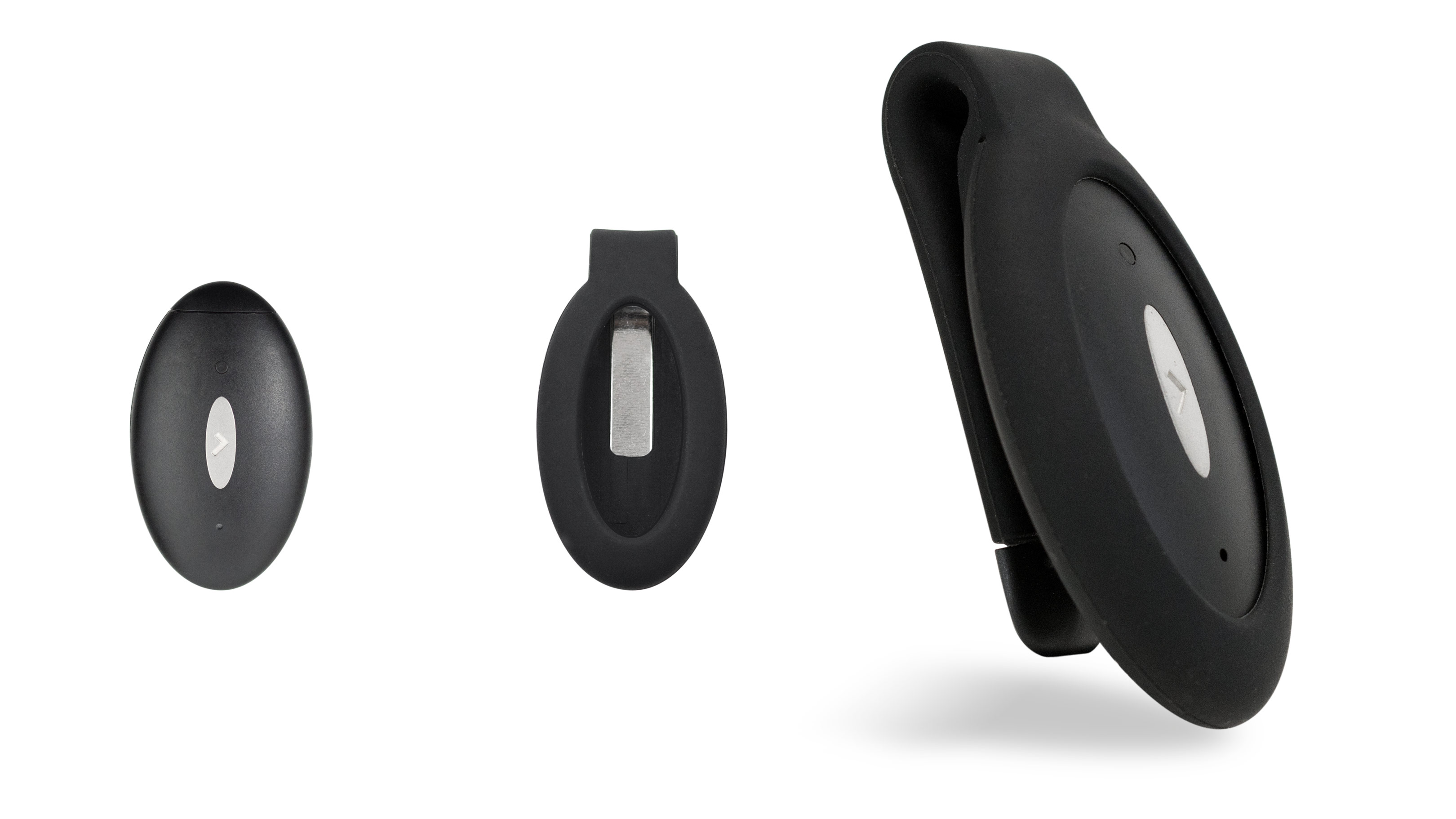 The Lumo Run is one of the best running gadgets in the world, and anyone who is serious about improving their performance and speed should be paying attention.
With no less than seven different sensors, including an accelerometer, gyroscope and vibration sensor, all you need to do is attach the 25g lightweight device to the back of your shorts and you've negated the need for a trip to the augmentations lab.
Lumo tracks all your essential running form stats – that's cadence (steps per minute), bounce, pelvic movement and how much brake you apply with each step – and sends them to the Lumo app for you to obsess over later, along with personalized recommendations for pre- and post-run exercises based on how you've just performed.
You'll also get tips on aspects of your form to work on during each run, along with live audio-coaching to help you adjust your form on the go.
The caveat for those who prefer running on the light-side, however, is that audio cues and GPS stats, such as pace and distance, are only available if you take your phone along for the ride (see the Shapeheart Armband listed above).
With 20 days of run time and onboard storage for sessions where you want to track phone-free runs this is your best tool for developing your form.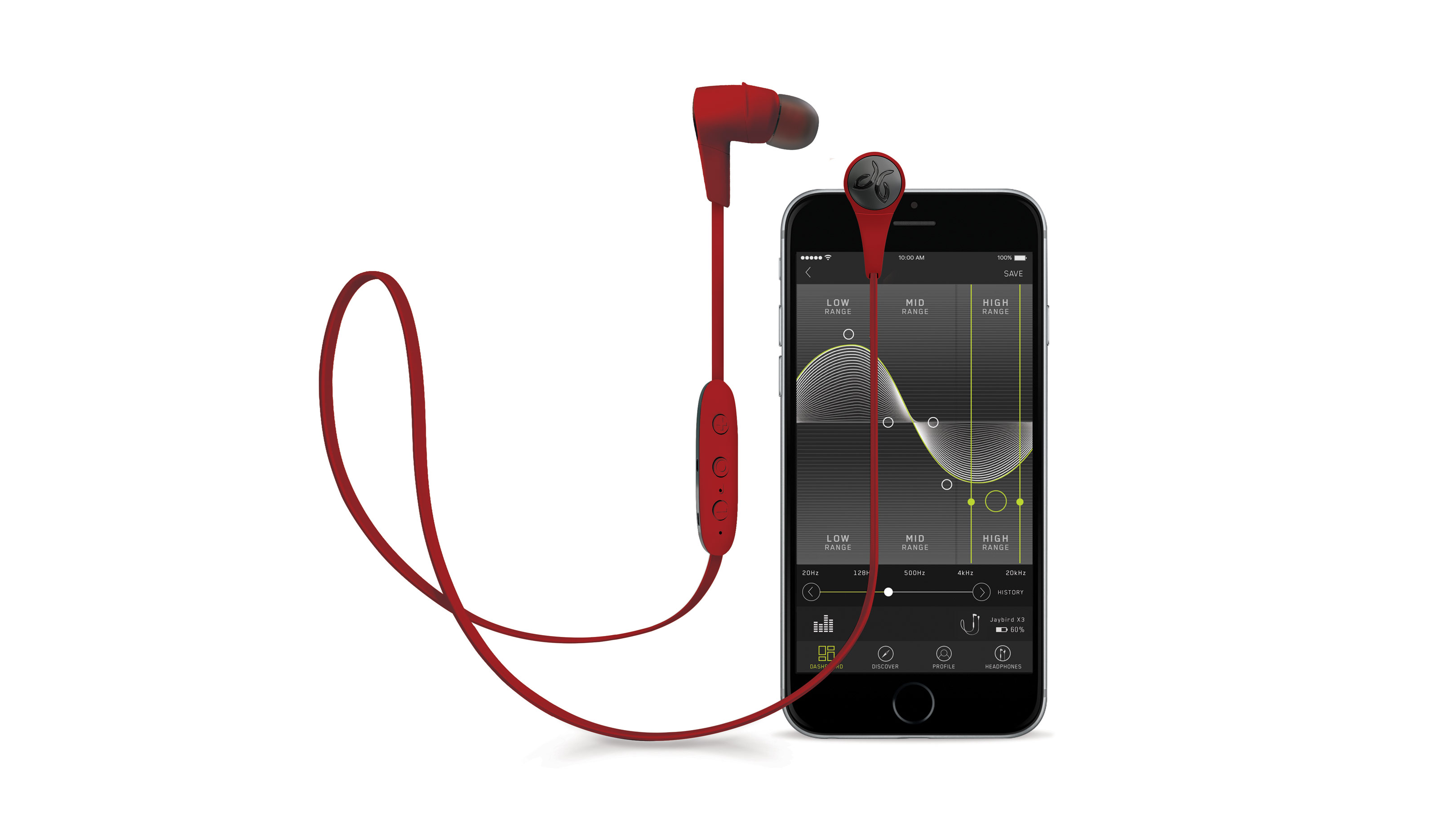 The Jaybird X2 in-ear headphones were a popular choice with runners and we expect the X3 to have a similar fan club. These new neckband-style Bluetooth buds offer plenty of improvements and an even friendlier price point.
For a start, they're slightly smaller but retain the sweat-proof design and surprisingly great sound.
Bluetooth 4.1 means longer battery life that can easily cope with a marathon with juice to spare, while there's also greater control over the audio thanks to a new companion MySound app that lets you tweak the levels to your preference.
But what makes them a killer choice for runners is how they fit and feel on the move. The abundance of fitting options means they stay secure in your lugholes while the lightweight band kills off any tug. The only thing that reminds you they're attached to your head at all is your power song pumping you to a PB.
Read the full review: Jaybird X3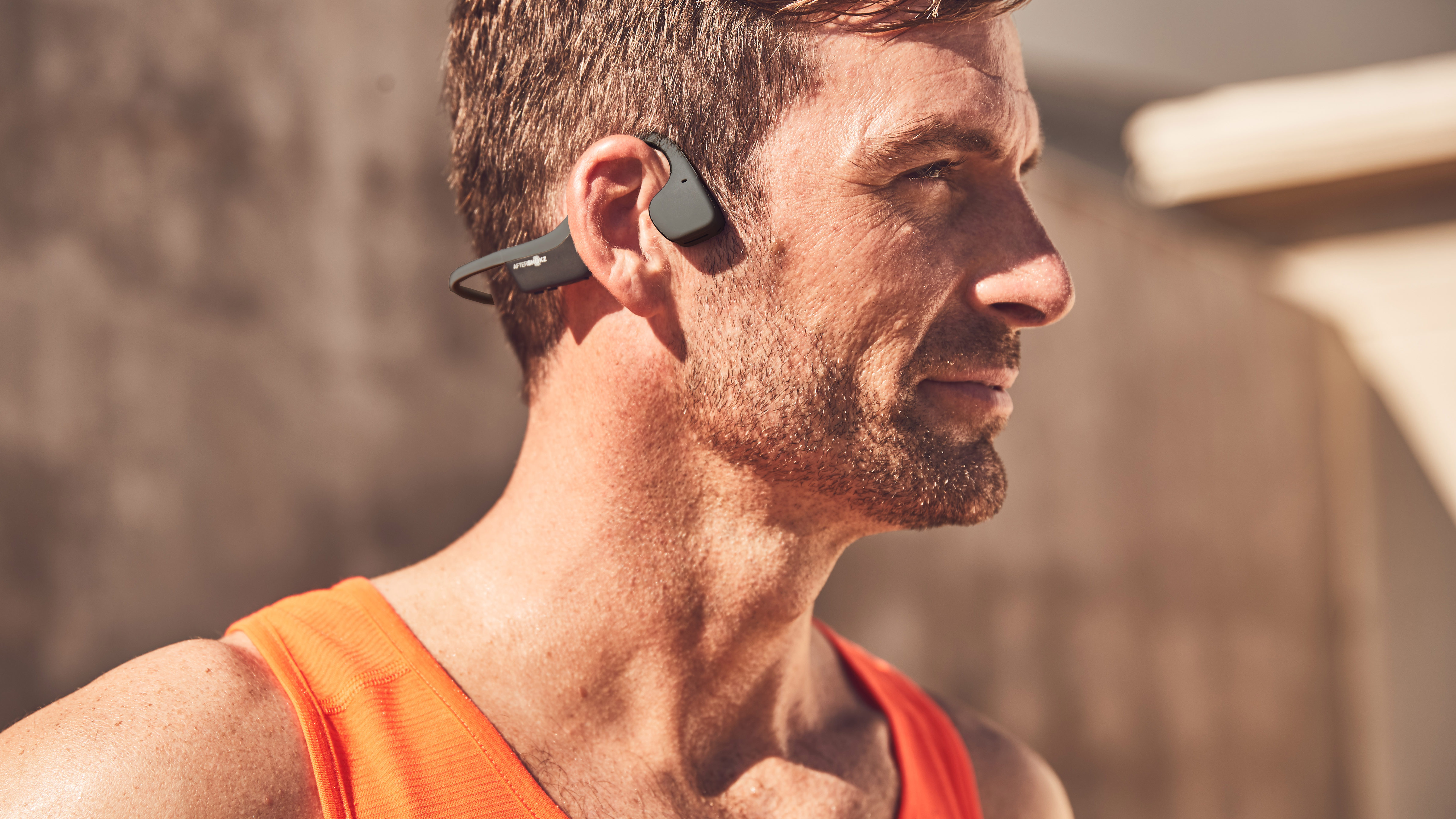 Designed for working out, the new generation of wireless AfterShokz IP55 sweat-resistant bone-conduction headphones weigh in at 30g, that's around 20% lighter than the original Trekz Titanium – because every gram counts when you're gunning for a PB.
Perfect for running, no wires mean no knocking your earbuds out with every arm swing, six hours of music and calls from a 90-minute full charge means they'll see you through a marathon with change.
One of the best things though: the open-ear design allows you to hear what's going on around you at all times, particularly important on darker nights and misty mornings and makes them race legal in the UK for open-road running.
Other useful improvements include dual noise cancelling mics so you can actually take that call while you're on the run (as long as you can breathe) and redesigned bone transducers that deliver more bass, one of our biggest bugbears with previous AfterShokz. The pause button has been overhauled to be easier to tap too… in short, this is a brilliant upgrade.
And because sport headphones tend to spend a lot of time kicking about in the bottom of a bag, they come with a durable premium titanium frame and wraparound band that can withstand a few knocks.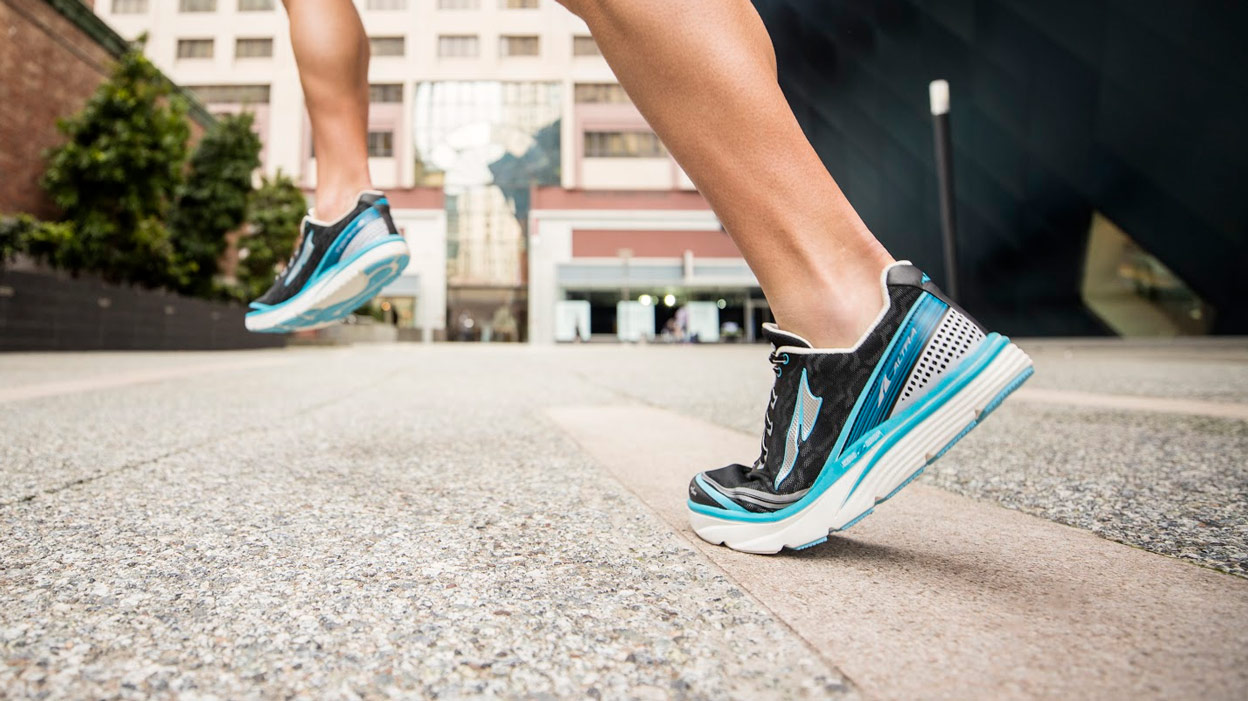 Designed to improve your technique and reduce the chance of injury, just about the only thing these smart trainers don't do is run for you.
As you plod the pavements they're collecting all kinds of data via lightweight pressure sensors that run the length of the shoes, storing the stats on the Altra IQ app and providing live coaching tips to help you improve your stride.
Monitoring cadence, impact every time you hit the ground, data on how you're landing – heel, midfoot or forefoot first – how your stride changes with terrain and elevation and even how long your foot is in contact with the floor, these zero-drop cushioned shoes are a stat-loving strider's dream.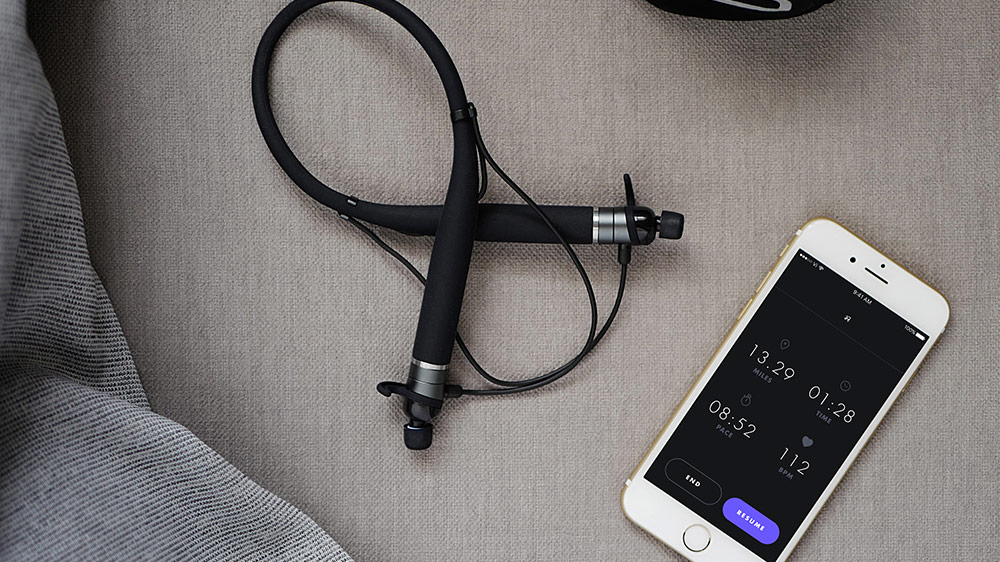 Vi is an AI running coach who lives in specially designed earphones. Offering personalized advice based on your goals and running history, she'll adapt to your training schedule and throw out workout suggestions and tips as you run.
The bio-sensing earphones track your speed, distance, cadence, elevation, heart rate and more so Vi can train you on the go, encouraging you to keep going when you're about to hit a new goal, telling you to slow down if you have a tendency to set off too fast, offering pace-specific training and suggesting recovery days or harder sessions where necessary.
Rather creepily, Vi also knows your name, the weather and where you are and can tailor her advice to your current situation, such as throwing in a few tips for running in the rain if you're heading into winter.
Ambitious by design, Vi represents the future of running and fitness gadgets. We've spent a lot of time with her – the AI is female – and while right now she's a great tool for casual and newer runners building fitness, she lacks a few of the essential features that will satisfy the more serious runners chasing PBs.
However, with the ability to support years of software upgrades, Vi can only get better as you do and for those who'd love real-time run coaching but can't afford it, Vi could make for a good AI option.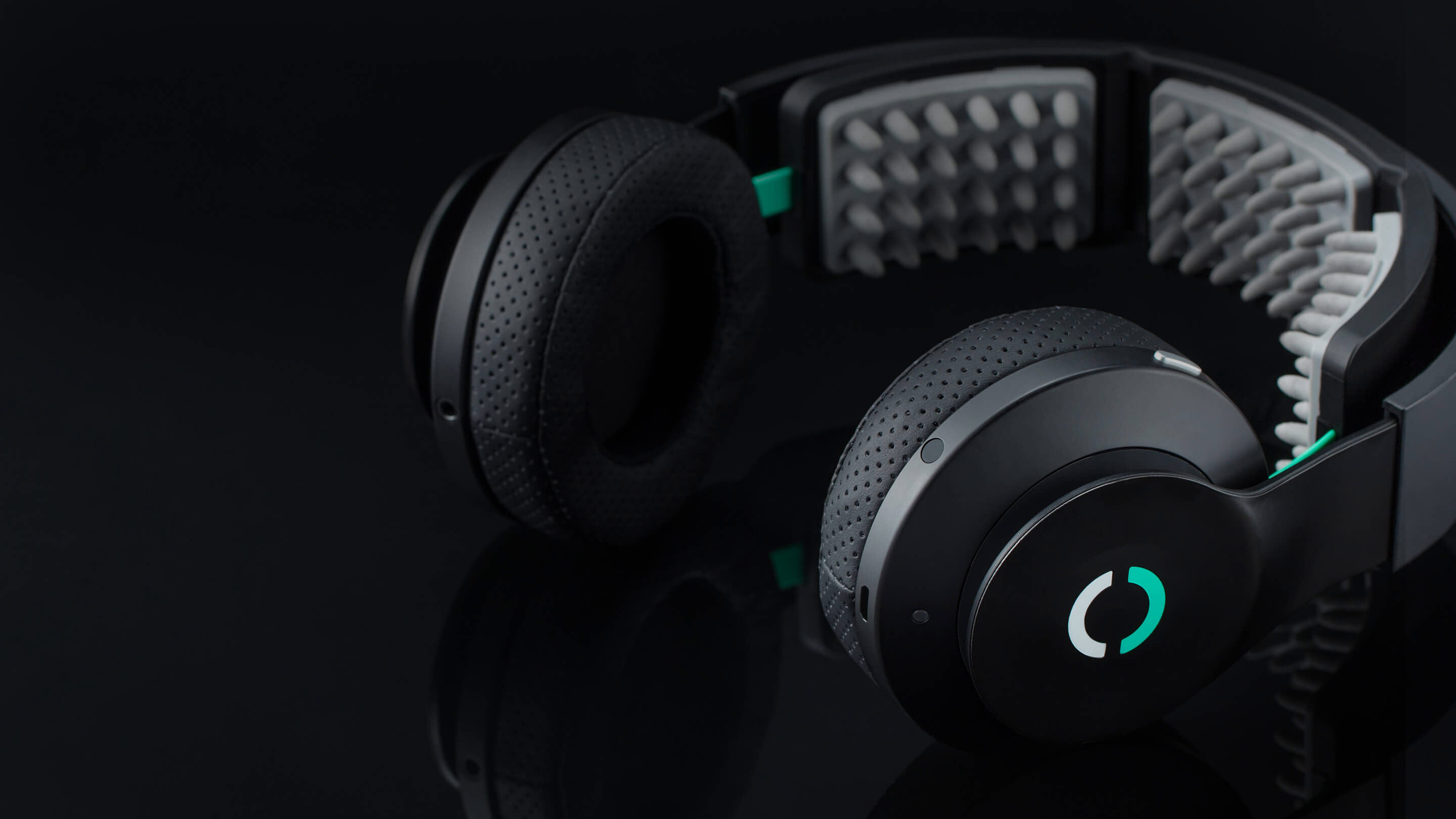 There's a reason these headphones look like they're going to tweak your brain – they are.
Part of a rising trend for applying advanced neuroscience to sport and fitness, Halo Sport employs clever, and somewhat complex, brain science to make you run faster. Worn before your workout, Halo delivers a tingling electrical stimulation over a 20-minute warm up period known as 'neuropriming'.
The idea is that electric signals help the movement-controlling neurons in your brain fire more easily.
Your brain learns to repeat movements such as the strides you make when running through a process called plasticity, but neuropriming is intended to get your brain into a state of 'hyper-plasticity' so it reaches its fine-tuning state more quickly and you get greater muscle control and better results from your workout.
Small-scale studies with baseball team San Francisco Giants showed improvements in speed and explosiveness and there's a weight of scientific research to back up their effectiveness.
However, unless you really, really care about shaving that elusive minute off your Parkrun time, then this might be a trend to monitor rather than dive in to at this stage.
Now check out the best running headphones