Best VPN for Canada: Our 5 top choices
Canada has some strict cybersecurity laws, upheld in an effort to prevent the likes of terrorism. And the country's government has some far-reaching powers in terms of legislation that many believe infringes their personal right to privacy – and naturally a VPN can help with maintaining the latter.
Of course, a good VPN service can do much more than that – it can also allow unblocking content such as streaming services, for example. Most providers have servers located in Canada, but which VPN will suit you best? That's the decision we're here to help you with.
Best VPN for ChinaBest VPN for MacBest VPN for torrentingBest VPN for AndroidBest VPN for WindowsBest VPN for NetflixBest VPN for KodiBest VPN for businessBest VPN for AustraliaBest VPN for ChromeBest VPN for iPhone/iOSBest VPN for IndiaBest VPN for gaming
How to choose the best VPN service for Canada
We've already covered the basics of what you should be looking for: strong security and encryption, and a watertight privacy policy. Server coverage is another important consideration, because more options mean a better chance of getting a fast and reliable connection.
As ever, in an ideal world, the VPN client should be straightforward and user-friendly. Also, be sure to check the number of simultaneous connections supported, as it's always a boon to be able to use multiple desktop PCs and mobile devices with your VPN. Bearing all that in mind, we've picked out our five favourite VPN providers for Canada.
The 5 best VPN services of 2017
IPVanish offers 15 server locations in Canada alone, with an additional 300+ servers located in the US, so there's certainly no shortage here. The software client is rather impressive and intuitive, with just the right balance of basic and advanced options.
In testing the service we found it gave us a substantial increase in download speeds over our normal rates, making it ideal for torrents. OpenVPN, PPTP and L2TP/IPsec protocols are supported here, and there's no logging of your internet activities.
IPVanish isn't the cheapest service around, though, and there isn't a free trial either – but there is a 7-day money-back guarantee that comes with all three pricing plans. The 1-year subscription is the best and most affordable choice. The packages available are:
[$10.00 a month] 1-month[$8.99 a month] 3-months – $26.99[$6.49 a month] 1-year – $77.90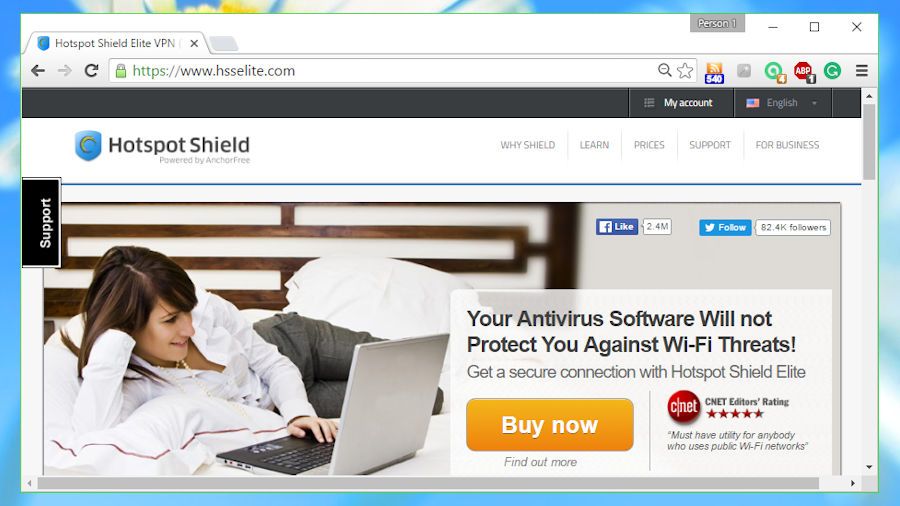 Even if Hotspot Shield's server locations are limited in numbers compared to most other VPNs, the service does include servers in Canada and the US that deliver blazing speeds. In tests, we found our latency, as well as upload and download speeds, were all a bit higher than our normal rates without a VPN, which is pretty impressive.
The client is easy-to-use but has very little in the way of configuration options. On the security front, Hotspot Shield offers some nifty additional features like private browsing and virtual location change. The privacy policy clearly states that any browsing or connection information which might be recorded during a VPN session will be deleted when that session ends.
Hotspot Shield has five pricing plans, with a special 'forever' plan offering a 7-day trial (you must enter your credit card details). If you don't want to make that much of a commitment, the 2-year plan provides the best value. The packages available are:
[$11.95 a month] 1-month[$3.33 a month] 6-months – $19.00[$2.50 a month] 1-year – $29.95[$2.08 a month] 2-years – $49.90Forever – $99.95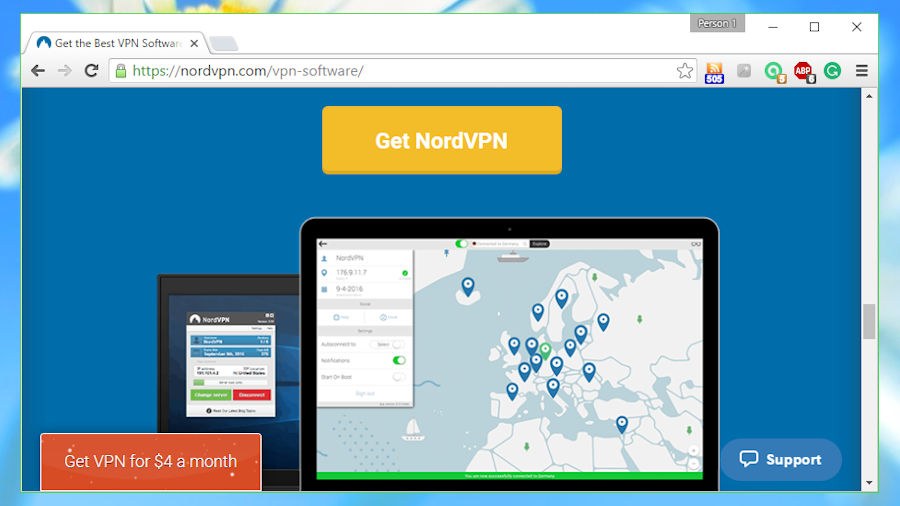 If security is your main concern, then NordVPN is your best pick. NordVPN's 'Double VPN' feature sends users' internet activity through two VPN servers. On top of that, the service offers features like encrypted traffic over the Tor network, encrypted chat, dedicated IPs (at an additional cost) and a strict 'zero logs' policy.
There's plenty of coverage with 59 local servers for Canada, and another 355 south of the border, with some of them being P2P-friendly. The client is simple and straightforward, and performance is very good – albeit limited to four devices per server, as multiple devices aren't allowed on the same server if they're using the same protocol.
It's an affordable VPN, and one that offers a 3-day free trial of the service (though it's hidden away and only mentioned in the FAQ), plus you get a 30-day money-back guarantee. On the downside, there's no way to cancel your subscription aside from having to get in touch with customer support. (Ed: you can now cancel the recurring subscription directly from the "My Account" panel). The packages available are:
[$11.95 a month] 1-month[$7.00 a month] 6-months – $42.00[$5.75 a month] 1-year – $69.00[$3.29 a month] 2-years – $79.00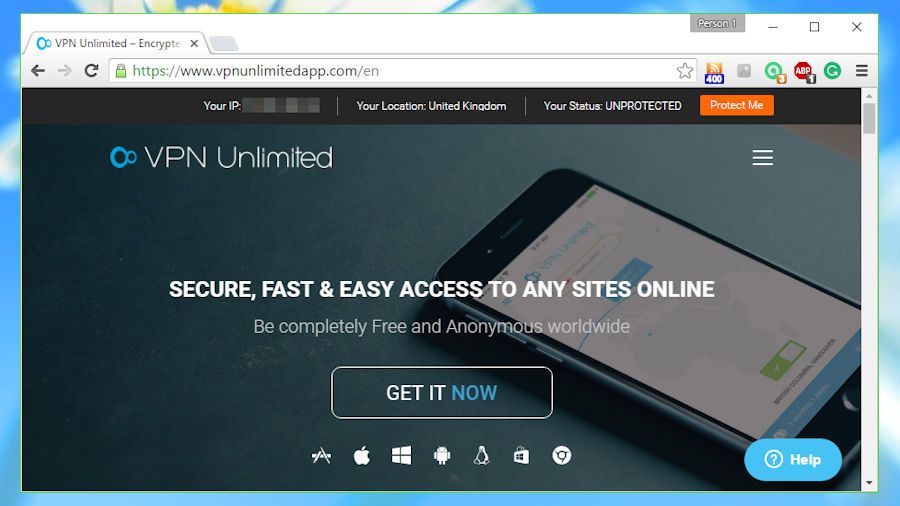 KeepSolid VPN Unlimited is a great choice for users seeking a cheap, but reliable, general purpose VPN. The overall number of servers is average, but Canada is thoroughly covered. The client is really simple to get to grips with, and provides a clear overview of your connection with basic details. You can expect above-average performance levels, too.
There are some pitfalls to be aware of, though – most KeepSolid servers don't support torrents, and the system only allows you to remove one device per week (in order to switch to using another), which can be annoying. Standard security protocols are in place and you can also purchase 'extensions' like your own personal VPN server (although obviously, you'll pay for these).
There are six pricing plans at your disposal and they're all cheap, ranging from a weekly plan to a permanent 'forever' subscription. The 3-year plan offers the best value for money if you're not looking for an indefinite option. It's also worth noting that there's a 7-day free trial to test the service. The packages available are:
[$1.99 a week] 1-week[$4.99 a month] 1-month[$3.00 a month] 3-months – $9[$2.08 a month] 1-year – $24.95[$1.94 a month] 3-years – $69.90Forever – $129.99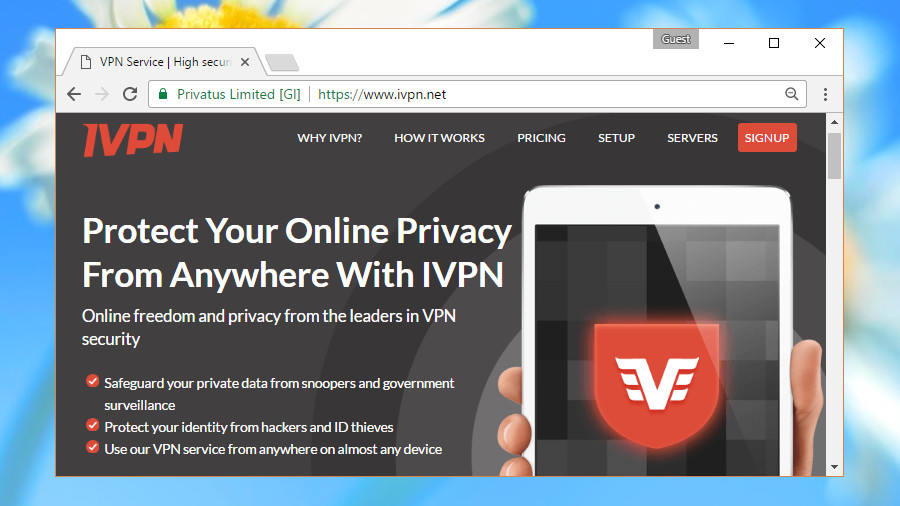 The server coverage here is unusually low, with only a handful of servers located in Canada and the US. However, IVPN has a dedicated page on its website where you can check the server load at any time, and in our testing, performance proved excellent.
The desktop client is also very neat and boasts loads of advanced features. IVPN doesn't offer native mobile clients, but you can set up the service using detailed guides on all the main platforms.
The company's privacy policy is quite clear regarding the fact that no logs are kept, while on the security front there are interesting features like Multi Hop (entering and exiting through different servers), a firewall to block non-VPN traffic, and more. The provider also allows P2P traffic with 'unlimited' bandwidth.
IVPN admits that it's "not one of the cheaper VPN services". The hefty 1-month price might be especially hard to stomach, but there is a 3-day free trial to test things out, and a 7-day money-back guarantee. The yearly plan is obviously the best option if you want relatively palatable pricing. The packages available are:
[$15.00 a month] 1-month[$13.33 a month] 3-months – $40[$8.33 a month] 1-year – $100Download IVPN here